Welcome to the latest, and very easy to apply YouTube Marketing Training, designed to take you by the hand and walk you through the process of getting the most out of YouTube.
I'm so excited to have you here, and I know this will be very helpful for you.
This exclusive training will take you by the hand and show you step-by-step, topic by topic, and tool by tool, what you really need to know in order to dominate YouTube Marketing the easiest way possible, using the most effective tools and in the shortest time ever.
This is exactly what you are going to learn:
In Section I, you will learn what YouTube is all about. We will give you the easiest definition for it, as well as cover very important factors so you can have a simple, but accurate and complete understanding of YouTube Marketing before you start working on it.
In Section II, you will learn why you should definitely use YouTube for your Business today. You will learn about some of its amazing benefits, as well as several shocking facts that will make you decide to start getting into it right away.
In Section III, you will learn how your business can get the most out of YouTube. We will cover topics like: YouTube Channel, YouTube Creator Studio, YouTube Upload, YouTube Analytics, YouTube Editor, YouTube SEO and YouTube Ads.
In Section IV, you will learn The Top 10 YouTube Automation Tools that you can use to get the most out of YouTube. These are several websites dedicated to giving you highly important services so you can set up and monitor some very successful campaigns.
In Section V, you will learn the 10 do's you have to apply for Successful YouTube Marketing Campaigns. These are specific things you should remember to use or practice, so you can succeed.
In Section VI, you will learn the 10 don'ts you have to avoid for Successful YouTube Marketing Campaigns. If you ignore these, be prepared to be disappointed.
In Section VII, you will get the chance to look at several shocking YouTube Marketing Case Studies. These are actual examples we have taken from the internet to show you how YouTube Marketing actually works for other businesses, so that you can have complete confidence in your ability to achieve your own business success story.
In Section VIII, you will learn how to make tons of money with YouTube as an affiliate. Strategies that you can apply and definitely see great results. These strategies have been used by experienced online marketers obtaining awesome results.
Well, it's time to dominate YouTube Marketing, fellows. I know you will love this training.
To Your Success,
Joyce Wright, Grow Systems
Section I:
What YouTube is all about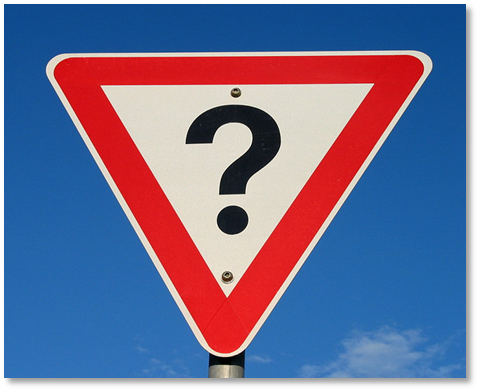 Definition
YouTube is the most favored video sharing social media platform. It was created in 2005 by Steve Chen, Chad Hurley and Jawed Karim.
In 2006 YouTube was acquired by Google. It has transformed the overall outlook of television advertisement and other video networks with an overwhelming influence.
YouTube is crucial for businesses and marketers, because it has a huge database of users. Hence, you get the chance to broaden your brand message extensively. According to Alexa Rank, it is the most visited website, after Google and Facebook.
More than 1 billion unique viewers visit YouTube every month. YouTube is a zero cost video hosting site which permits its registered users to watch, upload, share and store video, as well as subscribe to channels.
Mostly, videos are uploaded by individual users, but businesses, marketers and professional movie makers are also taking advantage of it. They create videos to share their work, showcase products and services, testimonials, behind the scenes, etc.
Users subscribe to the channels they like. These channels can be a brand, an online marketer, companies, etc. According to YouTube, millions of subscriptions take place on a daily basis.
YouTube also runs an advertising program to promote businesses and engage users with video ads and TrueView ads.
The revolution of video
Three decades ago, television was among the prime methods of marketing. However, due to changes in digital marketing, businesses and marketers need to choose on which platform they should advertise, either via TV or online or both.
TV commercials still works for big brands and businesses. However, if you are a beginner, TV video ads will cost a huge amount of money without giving you the desired output. Video advertising has changed completely in recent years, viewers mostly like to watch videos online instead of TV.
Video ads are more targeted, alluring and engaging than TV commercials. You don't need to show your product and services to those who are not interested. Video directly impacts buyers.
Most businesses are utilizing video ads to market themselves on each and every platform, such as desktops, mobile devices, tablets and laptops. Online video advertising is impossible to avoid, because it is overtaking offline television ads.
Social Media is a great way to engage and communicate with your audience. Videos are all about products or services as a way to motivate viewers into making a purchasing decision.
Video ads are used by businesses and online marketers to increase sales of their products and build brand awareness via videos explaining their products or services.
Online marketers use video to improve their sales funnel and boost revenue. Business video ads are all about increasing a user's interest in their products and are less focused on sales.
These video ads can be video email, testimonial, webinar, launch series ads and product demonstrations.
Online Video vs Offline Video Commercials
When people think about a video commercial, the first two things that come to mind are TV commercials and online video commercials. As technology continues to transform advertising techniques, businesses are also trying to go with the latest technologies to promote their brands. Online video commercials are steadily expanding their reach.
With offline TV video commercials, you have a standard 15 or 30 second advertisement spot to promote your products. While in an online video commercial, there is an extensive range of ad formats available. Advertisers can also opt for different playing options, like whether the video ads are displayed before the video, during the video or at the end of the video.
TV ads cost a huge amount of money and the cost of a spot depends on the ratings of the station without any assurance that people are going to watch your commercial or not. Online video commercials cost you for every 1000 impressions, which means you are paying for real viewers.
Offline video ads are limited to your living room. You can't watch them outside of your home. The availability of the internet is everywhere, so viewers can watch it anywhere in the world. With online video commercials, you can easily track your ROI.
Offline video commercials are used to target mass media. With online video commercials, you have the option to focus on your potential customers with unlimited reach. Online promotional videos are shareable within your social networks, but you can't share TV advertisements.
How video can impact your brand
Video advertising is growing daily as it boosts engagement, brand credibility and improves search engine rankings. It is one of the prime aspects on which businesses and marketers need to focus.
Engagement analysis demonstrates how people take actions with online videos, but brand metrics determine where they need to focus such as impression, awareness, and interest.
Video is an impressive technique to build a relationship with your customers and associate them with your brand. YouTube is an online video platform, where you can understand how the audience reacts to promotional videos.
By using YouTube videos on a website for promotional video ads, you will notice an increase in ad recall. To gain more benefits from YouTube video, you need to test your video campaign, creativity, and metrics. A/B testing can be used to analyze the outcome.
Chapter II:
Why you should definitely use YouTube for your Business today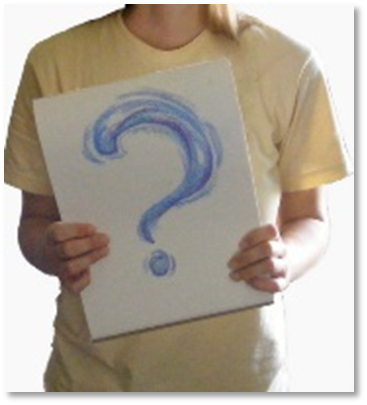 Every business and marketer needs to advertise their brand to attain goals and increase the purchasing potential of their customers.
YouTube also plays an important role to help you stand out within the competitive environment.
Integration of YouTube in your online marketing campaign will assist you in driving more potential customers towards your brand.
Here are some reasons why YouTube is really important for your business.
Amazing Benefits
YouTube is free
Most advertising campaigns cost lots of money, as well as time. But having YouTube in your online marketing strategy is completely free. It only takes time to create a video, but you can upload as many videos as you'd like without spending any money.
To advertise with YouTube, you don't need to invest too much money in professional items such as a camera or other things to create a video, you can use a handy cam and video editing tools, which are accessible through YouTube.
Add 24/7 exposure
Other advertising methods can't defeat an innovative YouTube video to attract and hold a potential audience. With YouTube, you get remarkable exposure for your business, because videos play the role of a virtual sales person. All you need to do is create videos and upload them to YouTube.
Now, it is available on the internet 24/7. Your audience can access you at any time, so there are more chances to get sales, reviews and comments, which can increase your brand's visibility on YouTube.
If you make a smart and proficient video, and upload it into the appropriate category, there are more chances to get views with little effort. You don't need to pay attention to it after uploading it.
Grow your audience around the globe
YouTube is a global perception that attracts customers from around the globe. You can access it anywhere on numerous devices such as a desktop, laptop, or smartphone.
YouTube advertising has the potential to be viewed by worldwide users, but you still need to ensure that your video is watched by your potential audience. If you don't focus on a prospective audience, you can't get the right users.
Regularly creating and uploading videos unlocks the door to getting new viewers for your business. Adding closed captioning, a call-to-action, offers and targeting users according to their needs, can also boost the views of unique visitors.
Boost SEO rankings
A YouTube video generally contains a link to the brand's website in the description. If viewers look for information about your business and like to watch more of your videos, they will go through the link to view your website.
These actions assist your website to be higher ranked in search engine result pages:
Writing long video descriptions that have at least 200 words
Motivating
Subscribing and linking at the end of the video
Sharing YouTube videos in other online social media communities, forums and blogs
Organizing videos by category
And using video keywords to optimize your ranking, improves your rankings in search engine.
Demonstrating your product
Demonstration is a great way to showcase products or services that your brand is selling. A YouTube video can be a great way to educate your customers by showing them your products with installation, FAQ's, tips and tricks videos.
All these things make your customers aware of you in order to boost your brand reputation, sales and revenue. Because after watching, audiences are more likely to buy.
With YouTube videos, you can show the expertise that makes you unique from your competitors. For that, you can upload tutorials and expert videos related to your business. A video can give your audience a reason to buy from you.
Save bandwidth
YouTube allows you to link and embed your video on your website without maximizing your website's bandwidth, because YouTube videos are hosted on the YouTube video hosting servers, so viewers' download speeds will not be affected due to the video.
YouTube also saves you website storage. If you only want to listen to audio or watch video, use YouTube and save your bandwidth. Because it provides adaptive streaming (DASH), where individual streams are available for audio and video.
Streaming videos also consumes more bandwidth, which can diminish the use of these types of video. Using VLC media player to watch, stream and record, can also save bandwidth for your website.
Enhance viral potential
YouTube video has viral potential. To take advantage of that, you can embed video on your website, blogs, forums and other social media communities. People like to share what they like among their network. If viewers find your video interesting and grabs their attention, the chances of getting it shared are increased.
To go viral and enhance exposure, you need to be creative with your video content. You can create buzz, share your achievements, be funny or upload something valuable to get shared again and again.
You also need to focus on your prospective audience to get the right audience to your business. This way, your business can get attention and high brand recognition.
Get high volumes of traffic
YouTube gives you a better chance to connect with millions of viewers and spread your business message among the prospective audience. Videos reach is more than other advertising methods. Four billion videos are viewed daily, and still growing rapidly.
To get a high volume of traffic, you need to:
Focus on the video title and description
Add channel tags
Have a look at comments
Build different playlists for different types of videos
And mark your best videos as "featured."
Recent activities can also be a win-win situation for viewers and your business. Include a call to action to motivate viewers to share the video to increase traffic toward your YouTube video.
Increase effectiveness of social activities
Users are more likely to buy after watching a video, so YouTube is crucial to enhance the effectiveness of your business.
Choose a regular uploading of video content and stick with it, segment important videos and create playlists.  Also, make sure you have a consistent look and tone for your videos to boost the effectiveness of your YouTube channel.
Including transcripts of videos can assist in being found easily by search engines and users. You can also add a call to action and annotations at the end of the video to take your audience to the next level. High quality thumbnails force users to watch your video content.
Stay relevant in prospects' minds
When it comes to video advertising, the first name which comes to mind is YouTube. Be informative and precise with your advertising videos. Don't try to sell with your videos. Keep your targeted audience in mind before creating video content.
Communicate with your potential customers through video content regularly to build trust and awareness of your brand among users.
It also boost yours creditability when you are on the top of your prospect's mind. Most users like to buy from users in whom they believe. Being on top can increase sales and revenue for your business.
Shocking Facts
YouTube is the 2nd largest search engine and the 3rd most visited website worldwide, behind only Google and Facebook respectively. (Source)
Average time spent on YouTube per mobile session is 40 minutes. (Source)
9% of U.S. small businesses use YouTube. (Source)
72% of millennials use YouTube. (Source)
80% of YouTube's views are from outside the U.S. (Source)
300 hours of video are uploaded to YouTube every minute. (Source)
60% of a creator's views come from outside their home country. (Source)
6 billion hours of video are watched every month. (Source)
Everyday there is a 3X increase in user subscriptions and a 4X increase in channel following on YouTube. (Source)
4 billion videos are viewed worldwide in a day. (Source)
YouTube has more than 1 billion unique visitors every month. (Source)
The number of hours people are watching on YouTube each month is up 50% year over year. (Source)
YouTube is localized in 75 countries and is available in 61 languages. (Source)
Half of YouTube views are on mobile devices. (Source)
Mobile revenue on YouTube is up over 100% year over year. (Source)
YouTube has more than a million advertisers, who are using Google ad platforms, the majority of which are small businesses. (Source)
75% of advertisers are using TrueView In-stream ads and 75% of In-stream ads are now skippable. (Source)
YouTube's mobile revenue is up 2x year over year. (Source)
The number of users coming to YouTube who start at the YouTube homepage, similar to the way you might turn on your TV, is up more than 3x year over year. (Source)
YouTube partner revenue is up 50% year over year — and we've seen this level of partner revenue growth for three straight years. (Source)
The number of channels earning six figures per year on YouTube is up 50% year over year. (Source)
The number of advertisers running video ads on YouTube is up more than 40% year over year. And the top 100 advertisers, the average spend per advertiser is up over 60% year over year. (Source)
YouTube overall, and even YouTube on mobile alone, reaches more 18-34 and 18-49 year-olds than any cable network in the U.S. (Source)
The number of hours people spend watching videos (aka watch time) on YouTube is up 60% year over year, the fastest growth we've seen in 2 years. (Source)
The number of hours people spend watching videos on mobile is up 100% year over year. (Source)
Section III:
How your business can get the most out of YouTube.
YouTube has an awesome set of marketing tools that almost no other platform may offer to you. Those tools are:
YouTube Channel
YouTube Creator Studio
YouTube Upload
YouTube Analytics
YouTube Editor
YouTube SEO
YouTube Ads
YouTube Channel
A YouTube Channel is simply the home page for a YouTube account. It shows the account name, the account type, the public videos you've uploaded, and any user information you've entered.
The process is really simple. First of all, go to www.youtube.com/account
When creating a YouTube Channel for the first time, look in the additional features section, find the Create a new Channel tab and click on it.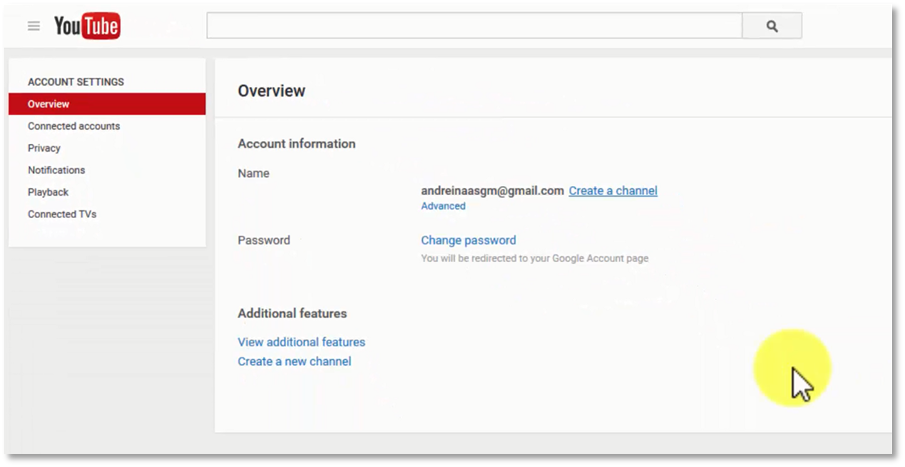 Your user features will be displayed however you have them set at the moment. You'll see your name and picture (from your Google profile), and also the words "Create a new YouTube Channel" for your public videos and playlists.
By clicking the "ok" button, you'll be sent to your own brand-new channel.
For creating a second channel, you will find it just as easy as creating your first channel.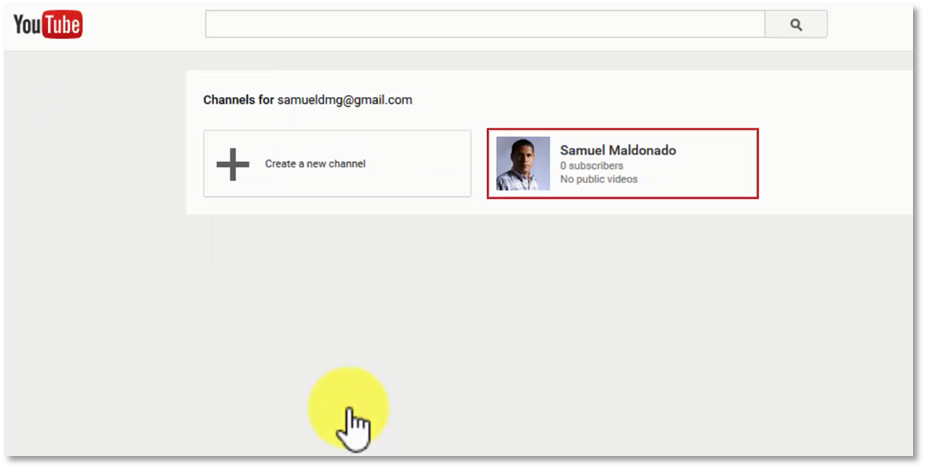 Select a name for your channel.  As with the previous channel, choose a name characteristic to the subject you are dealing with. A name which people will relate with your product or your company.
You must select a category for the video, whether it is a Product or Brand; Company, Institution, Organization, Arts Entertainment or Sports, or other.
It's necessary to select the "I agree to the Pages Terms" tab in order to move on. When you're all set, click on the "Done" tab, and the new Channel will be created.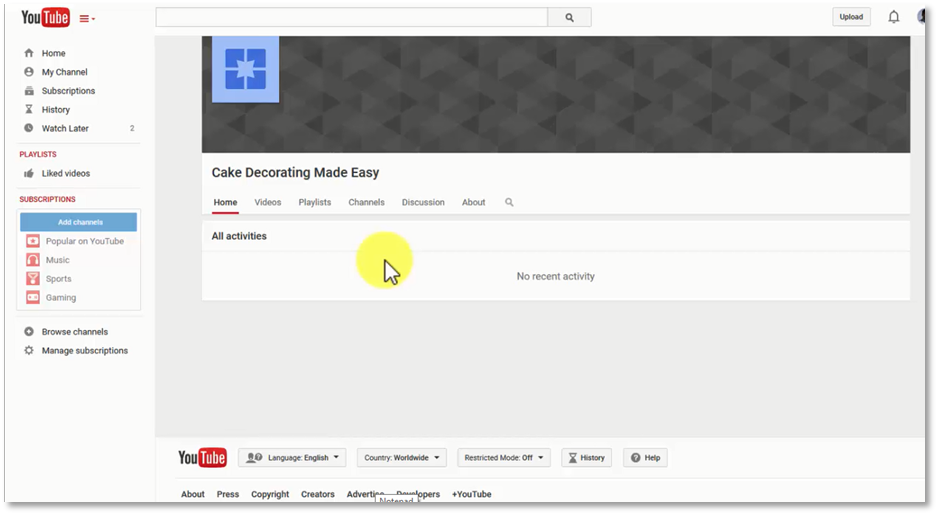 Once you create a new channel, you may upload Videos to your channel, whether public or private; and comment on videos using your channel name. Moreover, your new channel comes with a Google+ page.
When you have a Google+ account and want to create a channel or reactivate an inactive channel linked to your account, you need to go to your YouTube account and click in the create channel tab, in the Google+ pages.
The following info will pop-up: Create a Channel for (your Google+ selected page). As you continue to clicking the "OK" button, the new channel will automatically be linked to your Google+ account.
This means, that your page and channel will display the same name and photo on both your YouTube and Google+ accounts.
You may verify this, as you continue setting all the remaining features in your channel.
Even though your channel icon is linked to your Google+ account, edits on Google+ may take a few minutes to show on your channel.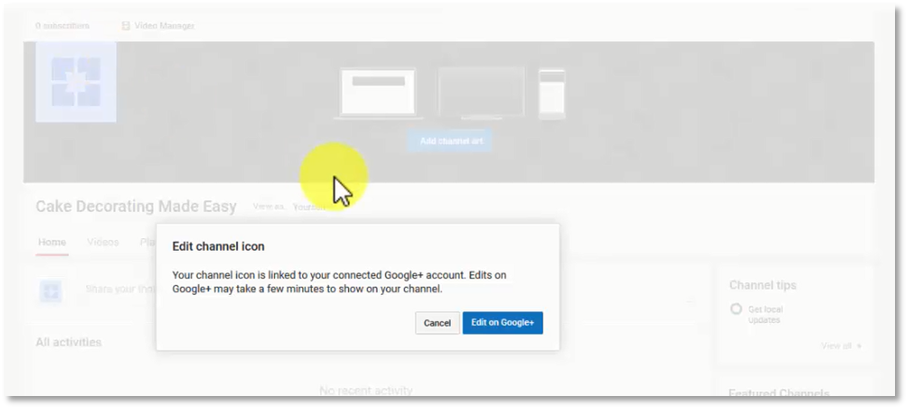 You may also upload a photo to be your representative image. Before posting your new picture, you should add a comment and also set the properties as to whether or not you'd like to disable comments and re-share options.
There's also the choice of adding art as a backdrop. Just select the "Add channel art" tab, choose among uploading a photo, use a picture you had previously uploaded or picking one from the gallery.
After choosing from among any of the options just mentioned, the page shows different looks according to the device your audience is using. It will look a bit different across devices.
Besides your channel name and pics, your channel's main page will display a tab with tips. I strongly recommend to check them out. They might be really helpful, especially in continuing setting up your page.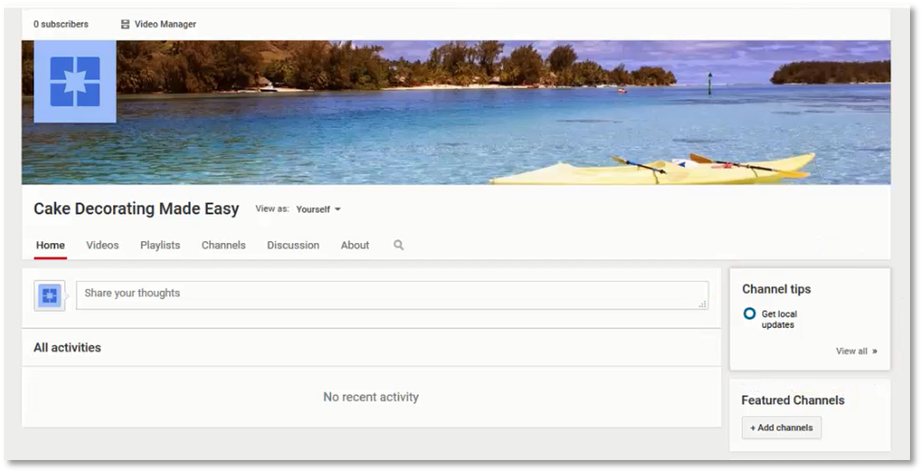 From your main page, you will be able to see your videos, playlists, discussions, and more. You may also share your thoughts to your audience and spot recent activities.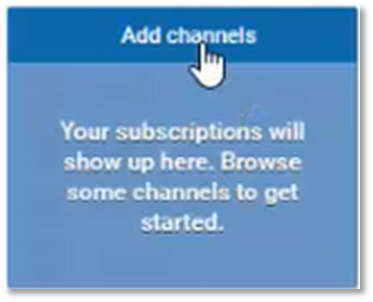 Subscriptions will be shown on the left side of your main page, in the "Add channels" tab. To get started, you only need to browse some channels there.
By clicking here, you will see the Best of YouTube, with the ability to search.
You will see the most popular videos in YouTube at the moment. Options may include music, sports, gaming, news, and 360Video. Each will display a subscribe tab next to it.
That page will display several recommended channels related to music, comedy, film and entertainment, gaming, beauty and fashion, automotive, animation, sports, tech, cooking and health, news & politics, and more.
At the bottom of the page, you will have the option of selecting a language and also a country for your YouTube page. English is the regularly chosen language. It is acknowledged as universal, but you may use another instead for your campaign.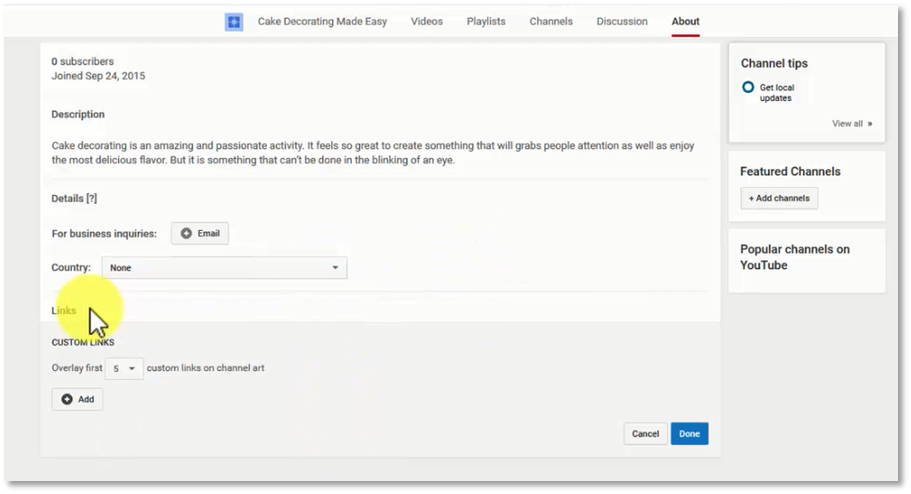 You may also set other features starting from the main page of your channel. You should go to the Edit links tab, in the upper right corner of your art tab. Here you may write a channel description.
Also, you should set other settings, such as writing an email for business inquiries and choosing a country for your channel. 
Links can be added to your channel in this section. It's optional to choose whether these links overlay a certain number of custom links on channel art.
For adding the link, you must write a title, up to 30 characters maximum and the URL. Always remember using words closely related to your product when writing titles and descriptions.
YouTube Creator Studio
YouTube Creator Studio is a tool meant for managing YouTube video channels. It has the features designed for it and provides an excellent way to reach the demographic wanted.
There are several sections that will help you control your YouTube Channel, such as: Dashboard, Video Manager, Live Streaming, Community, Channel, Analytics and Create.
For direct access to the YouTube Creator Studio, go to www.youtube.com/dashboard and you will see all the features to the right side of the page.
Dashboard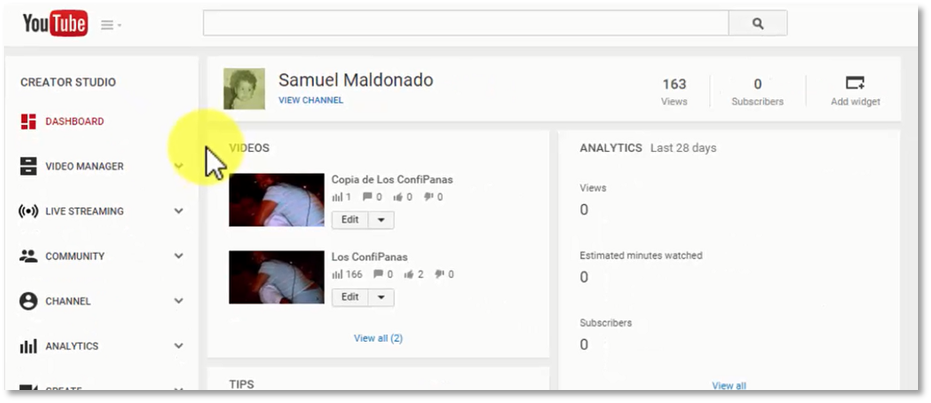 It will display the name of your YouTube channel and next to it you will also see a snapshot of views and subscribers to your channel.
Each of your videos will be shown in a vertical list, in which the last video you posted will be at the top.
You may set the quantity of videos shown. Keep in mind that the Dashboard can be edited, so you're allowed to add or retire components of it.
There's a quick view of your Analytics for the latest 28 days with the following features: Views, Estimated minutes watched and Subscribers.
You will also see a section of Tips posted by YouTube to help you improve the reach of your channel's videos.  For example, it might give you a tip to specify your channel's country.
You should add your info in order to stay informed about updates for your location.
Another tool that YouTube has is the Creator Academy. You can go there to find tips for branding your content. Simply click on the Branding your content segment and then on the Watch and learn link.
There's also a Comments section which enables you to receive feedback from your audience.
Video Manager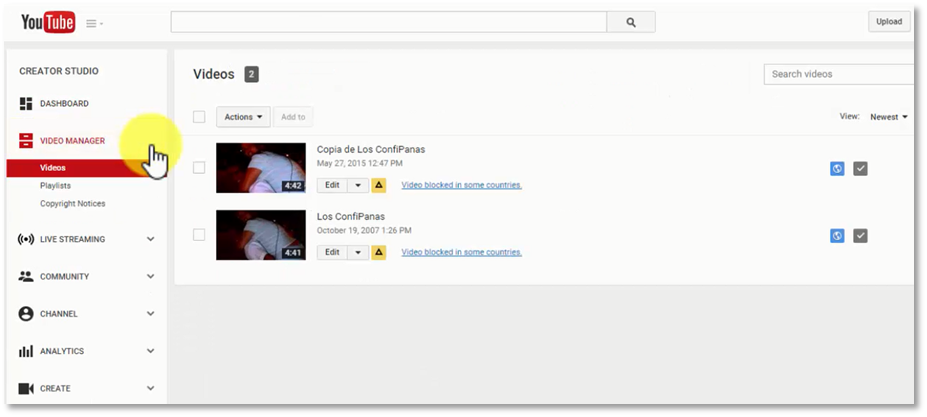 Here you can control how your videos will be displayed, as single videos or playlists. You may also choose between a List Display and a Panel Display.
You will also see your Demographics on the right side of each video. Once you select a video, you may use the Action tab to perform specific actions to the selected video.
When Uploading videos to your YouTube channel, pay serious attention to the copyright. It will be flagged in the Copyright Notices, as well to let you know if something is restricted.
Each video will show the title, duration, the date and time you uploaded it.
In all videos, you will have an Edit button, where you may edit these features: Info and setting, Enhancement, Audio, Annotations, Cards, Subtitles, Promote, Download and Delete
Live Streaming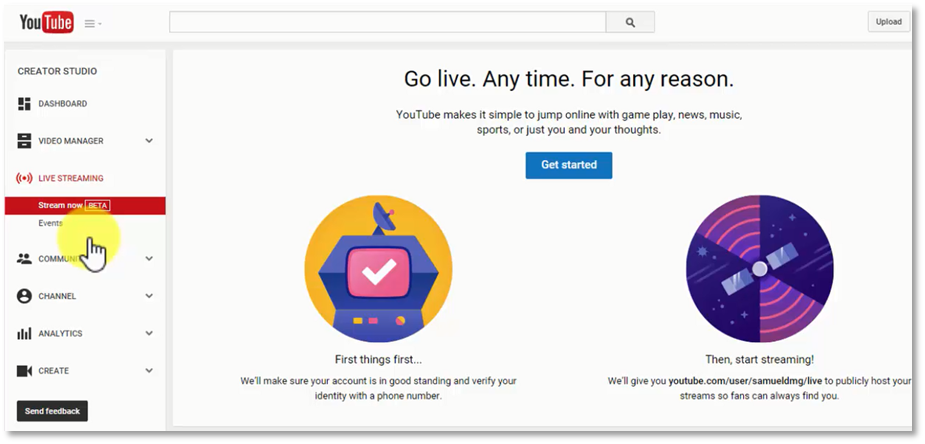 With this option, you will be able to broadcast on the web in real time. It could be music, sports, news or anything.
There are two steps to follow in order to stream: First Things First and Then Start Streaming.
"First Things First" is a measure YouTube does to verify your standing and identity.
In "Then Start Streaming", YouTube will provide you with a specific link, so you will host your streaming, and your fans have the chance to find you.
YouTube also makes it possible for you to stream an entire live event right to your audience.  You just need to click on the Enable Live Streaming button, and start the process.
Community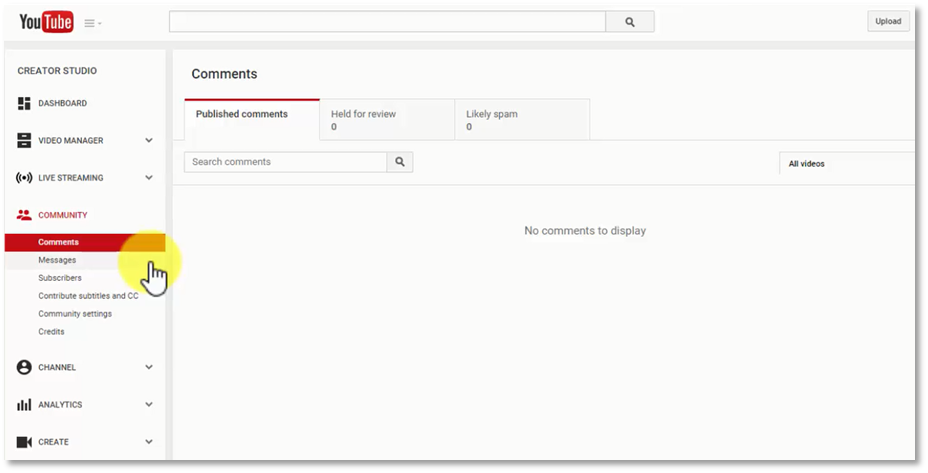 In Community, you will see comments and messages.
Also, you may set your community settings which include: administering filters, see your approved users, hidden users, and blacklist. You may also set up Highlights and Default Settings.
In this section, you will see comments of all kinds, although they are separated by: Published Comments, Held for Review and Likely Spam.
Likewise, you can search for specific comments using the Search Comments tab. There is also the option to choose which video you want to see.
You will also find the Default Settings, which are: Comments on your new videos, Comments on your channel and Creator credits on your channel.
Channel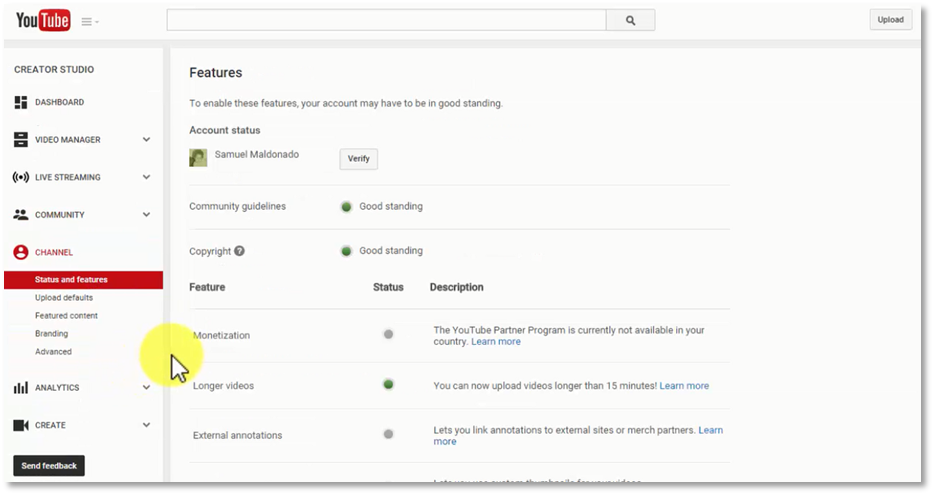 In this section you will find features that have to do with the entire channel such as: Status, Upload Defaults, Feature Content and Branding.
To enable these features, your account may have to be in good standing. You will need to click on the Verify button to start the process. YouTube will ask you a few questions related to your account.
In the Advanced segment you may edit your account information, such as your channel name, country and channel keywords.
You may also allow advertisements to be displayed alongside your videos. Also, you may Link an AdWords account to your video account.
Linking your YouTube channel to an AdWords for video account allows you to promote your video and access reporting.
Analytics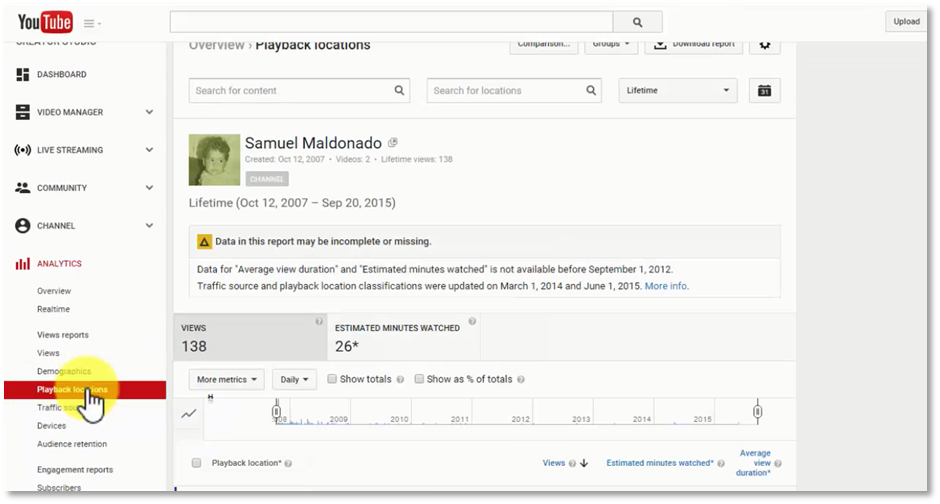 In this section you will see the performance of your channel.
You will see the views, demographics, traffic sources, audience retention, engagements reports, and even your likes and dislikes.
You can search for information depending on the Content or Location. You can make comparisons, see groups and download reports.
This section shows the Top 10 videos, the amount of views, estimated minutes watched and the quantity of Likes for each video.
There is also Demographics by country and gender, and the Top Traffic Sources.
The Playback locations will display a graph of the performance during the time that the channel has been active.
Create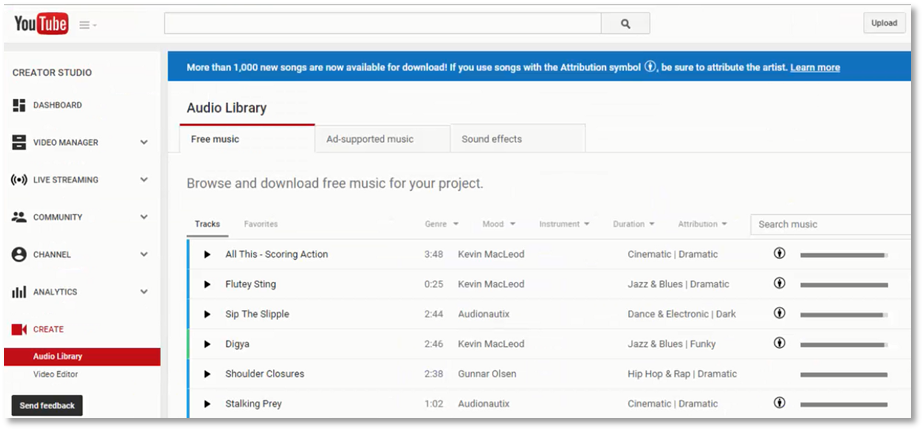 This section is formed by the Audio Library and Video Editor.
The Audio Library enables you to browse and download music for your project. The Audio Library gives you the option of choosing from three audio files tabs: Free Music, Ad-supported Music and Sound Effects.
By clicking on the Video Editor tab, you'll have the option of entering video and audio files. Now you're all set to start creating a new video.    
YouTube Upload
Uploading videos to your YouTube Channel is quite easy. To do so, go to www.youtube.com/upload and follow the instructions I will share with you.
On the right side of the screen, you will find several useful tools. The Import Videos section can be really handy. You can import your videos from Google Photos, just click on the Import tab.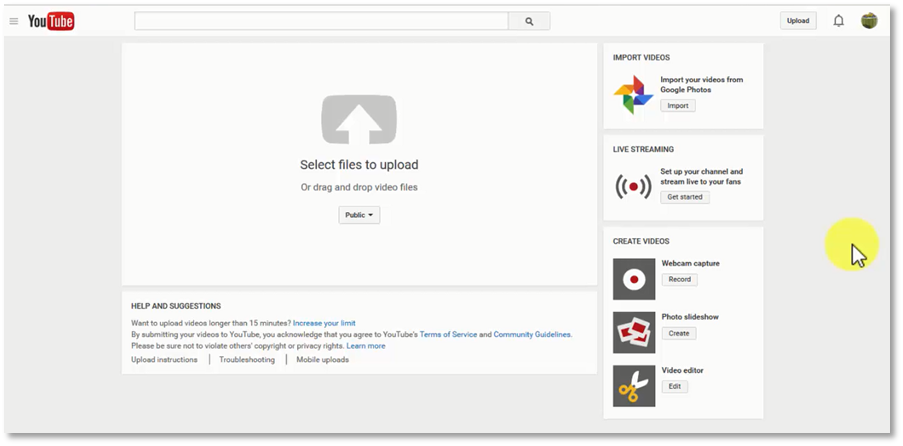 It will show the All Videos tab, with each video previously uploaded. There will also be an Audio Backup tab, which has a Video Audio Backup app, as a part of Google+ for mobile devices, as well as Mac OS & Windows.
If you want to broadcast Live Streaming, you may set up your channel and broadcast on the web in real time right to your fans. Just click on the Get Started button.
The first step will be your account verification, which YouTube will do by contacting you by phone, whether with a call using an automated voice message or send you a verification code through an SMS.
You need to select your country, then choose a means to contact you, whether by a call or by an SMS. Something worth noting is that when verifying your account by phone, it lets you unlock additional features on YouTube.
There are several options to Create Videos:
Webcam Capture
If you have a webcam available in your computer, you can record a webcam video and upload it.
Photo Slideshow
You are allowed to select photos from your previously uploaded photos, your photo albums or photos from your computer.
When uploading photos, you will be asked to name the album you are creating, or you might just add them to an existing album. You can also drag your photos to the screen, or use the tab Select them from your computer.
YouTube offers you a Video Editor tool. As you upload the audio and video files, they will be displayed next to each other in the timeline. Additionally you'll have your uploaded videos available, as well.
You can also add photos to your videos, selecting them from your Google account or upload new photos.
There are also many audio tracks available to use. You may choose from a list provided, and choose the genre you would like to use.
There are various options to add a title to your project. You will see the following: Centered title, Banner; Centered fade, Slide and Zoom. You may see them displayed in your screen. To add one, just drag it to the timeline.
In the main section of the upload page, a Select files to upload tab will be displayed in your screen. You can also drag and drop video files to that same tab.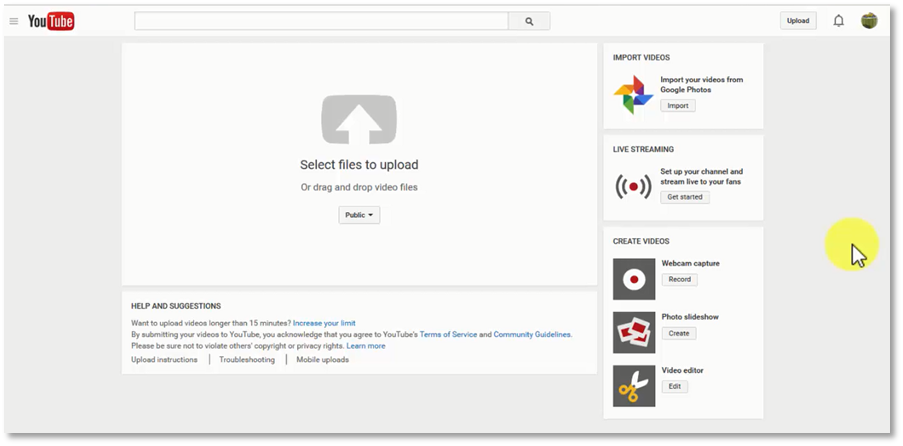 You must choose between the Public, Unlisted or Private options. It is a very important feature of your video. If you choose the Private option, you need to write exactly who you are going to share it with.
Subsequently, when your video is done uploading, you may choose one of three thumbnails, which YouTube automatically creates.
In Basic info, be sure to register a name related to your product, so your audience may get an idea of what you're offering. In connection with the description, take enough time to make it detailed and accurate.
You should go also to the Advanced settings to improve your features setting.
There are several options to consider and use. They will customize your video features to your specific needs.
Options to customize are: comments, category, language, age restriction, and more.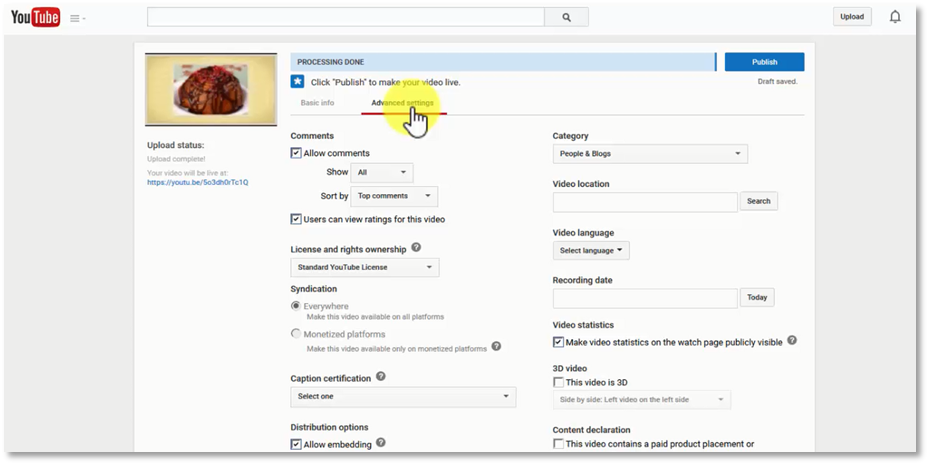 When it comes to comments, you may select one of two options: All and Approved. It's recommended to allow showing all comments. In case you change your mind, you can modify it.
License and rights ownership gives you two options: Standard YouTube License or a Creative Commons Attribution.
In relation to Caption certification, if you are uploading a user's produced video, pick the first option: This content has never aired on television in the US.
You may also select the Distribution options, whether to Allow embedding and Notify Subscribers or not. The same applies to enable an age restriction.
In the Category tab, there are several options, select the field that fits you. You can choose among categories like Education, Entertainment, People & Blogs, and more.
When you choose a Video Location for one of your public videos, you'll decide if the video can be used not only in YouTube, but in other Google products, as well.
In the Select a Language tab, there are 172 language options at the moment. English is strongly recommended and the most widely used.
You can opt to make your video's statistics publicly visible on the watch page. If your video contains a paid product placement or endorsement, you should select the Content Declaration option.
When you're done, press the Publish tab, and your changes will be saved.
In your upload status, you will have several pages displayed through which you could share your video. YouTube will also allow you to share it as an embedded code. One last option will appear. You can send it as an email, accompanied by an option of adding a written message.
Now that your uploading process is all set, just click on the thumbnail of your video to watch it.
YouTube Analytics
YouTube Analytics is the best way to understand the performance of your YouTube channels figures. You can go directly there at www.youtube.com/analytics
It shows the number of people subscribed, not subscribed and both of them together.
You will be able to search information based on Content or Location. It provides several options of viewing periods, you might see a span of 28 days, its entire lifetime, and more. 
You can choose the length of time to be observed; the past 28 days, this week, last week, and even more options. You can also choose from a calendar.
Comparisons can be made with two timelines chosen. Content, Location, and period of time are the characteristics to choose from.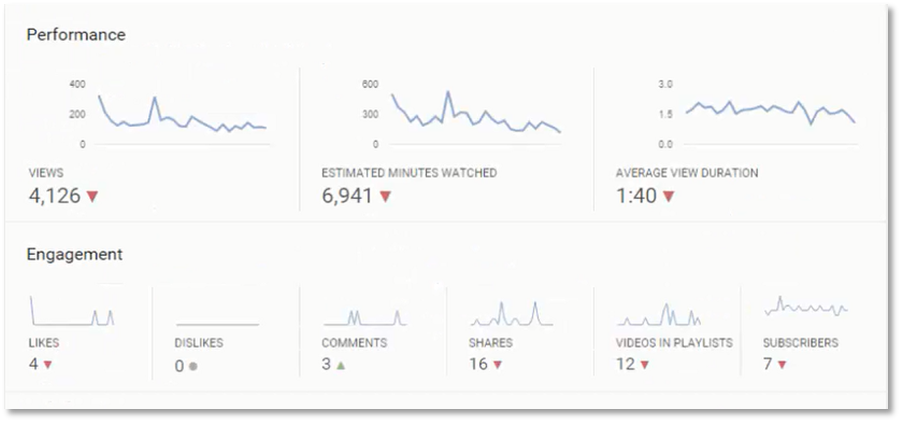 It will display several charts, including Performance, measured in: Views, Estimated minutes watched, and Average view duration. The other chart will be Engagement, with these features: Likes, Dislikes, Comments, Shares, Videos in Playlists and Subscribers.
You will find the Top 10 videos listed with the first having the largest number of Views. Each will have next to it the estimated minutes watched and a number of Likes.
The Demographics also shows the places where the videos have been watched in greater numbers. There is a pie chart with percentage based on Male and Female viewers.
At the end of Demographics, there's Discovery, showing you the Top Location where it was watched: Embedded external websites and apps, YouTube watch page, YouTube channel page. Also, you will see the Top Traffic Sources, whether it's External, Suggested Videos, YouTube Search, and others.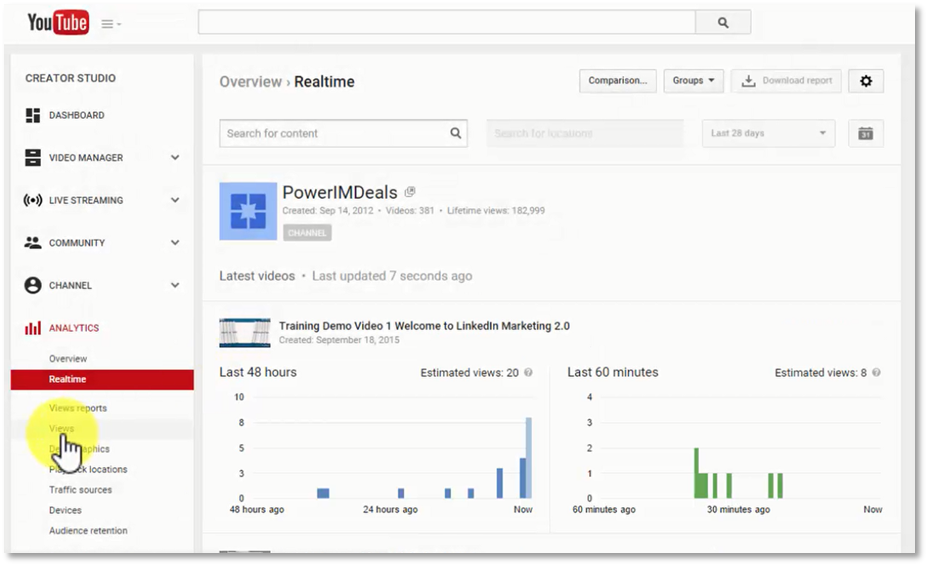 In Real Time, you'll see bar graphs of the last 48 hours and of the last 60 minutes with Estimated Views of each video.
By checking out the Views section, you will see how metrics are compared in a line chart, during a certain period of time.
When the Demographics section is opened, bar charts and pie charts will show you the percentage of views by gender in the last 28 days. 
Top Location by Views gives a fairly complete picture by showing what countries are watching, and Views in relation to the age of the audience and gender. Here, you may evaluate the range of age of most viewers on your channel.
When opening the Playback Location tab, you will see the number of Views and Estimated minutes watched, and several graphics to choose from.
There's also a table that relates to views embedded in external websites and apps, YouTube page and YouTube Watch Channel Page, with Views, Average Watched minutes and Estimated duration of views.
Traffic Sources
Here you'll see a table of different sources of traffic: External, Suggested Videos, YouTube Search, Direct or Unknown, Other YouTube features, YouTube channels, Browse features, Notifications, Playlists; each one related to Views, Average Watched minutes and Estimated duration of views. All this will be listed in descending order according to the percentage of Views.
Devices
You can see what type of devices are getting watched the most, such as Computer, Mobile Phone, Tablet, Unknown, Game Console and TV.
Each is related to Views and Estimated minutes Watched.
The Audience Retention displays a chart with Average View Duration and Average Percentage Viewed.
The Subscribers tab will show you: Subscribers, Subscribers Gained and Subscribers Lost, all compared in a chart. 
There is also a chart with Source, Geography, Date and Subscribers Status. In this table, they're compared with Subscribers; Subscribers Gained; Subscribers Lost, related to Video, Channel, Recommended Channel and Closed accounts.
There is also a chart with Likes and Dislikes, as related to time.
When watching Videos in Playlists, you will observe metrics and growth, and you may set the period of time you want to watch in the chart.
There is a list of your Videos, and for each one are the following characteristics: Videos in playlists, Videos added to playlists and Videos removed from playlists. You also may set the Video list by Geography, Date or Subscription status.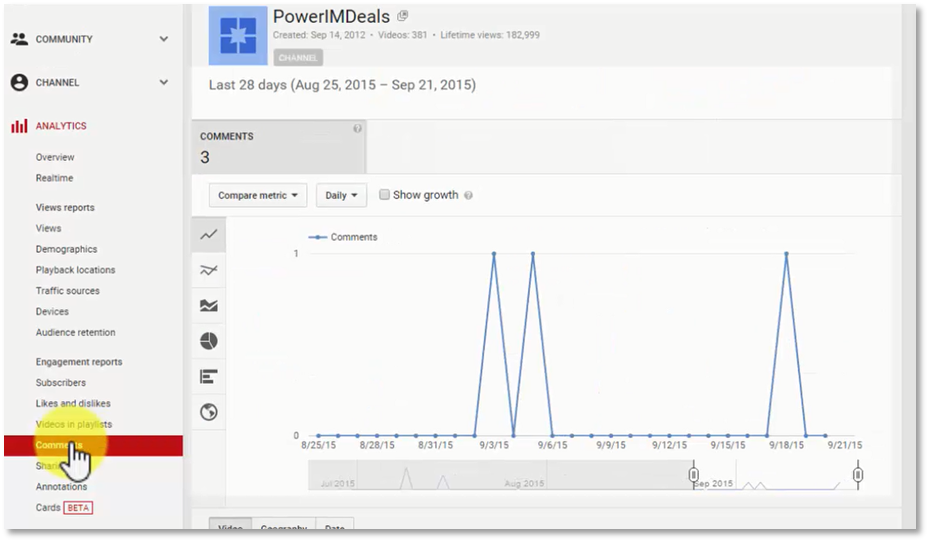 In the Comments section, you will find a graphic that measures comments in the last 28 days. Below that, you will also see the number of comments by video.
Something important to measure is the act of Sharing your videos, which gives you an idea as to the impact on your audience. You will see that in a line chart.
In this same section, there will be a list of each shared video, showing the number of shares.
Annotations are clickable, customizable text or images that only appear on the desktop. You can use them to send viewers to more of your videos or playlists, your website, to cross-promote, or take viewers back to your channel page.
You can think of Cards like an evolution of annotations. They can inform your viewers about other videos, merchandise, playlists, websites and more. They look as beautiful as your videos, are available anytime during the video and yes, they finally work on mobile devices.
YouTube Editor
Something awesome about YouTube is the ability you have to create videos inside of your account. To go straight to the YouTube editor, go to www.youtube.com/editor
Here you'll see listed all the videos you have uploaded to YouTube over time. As well as several editing tools you'll learn how to use right now.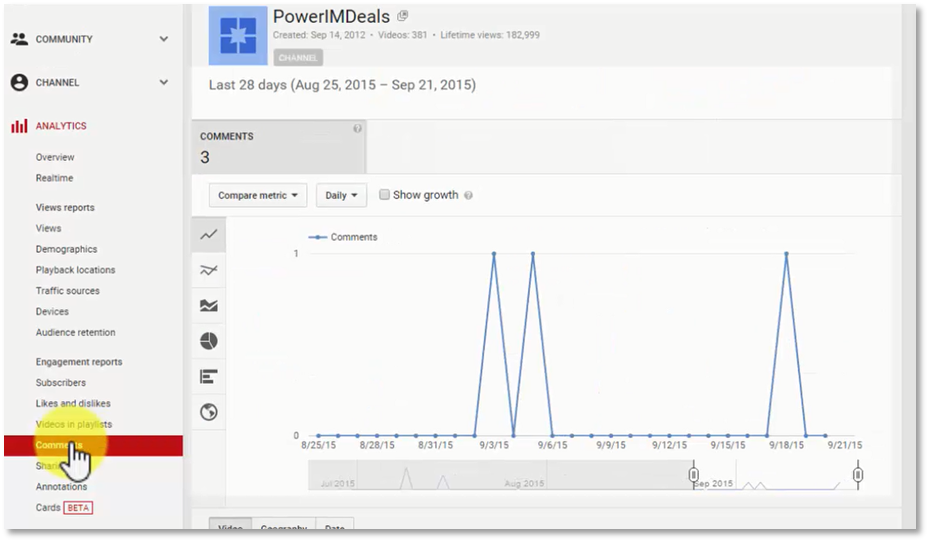 The first thing you must do is name your project. I will just name it "Testing Video".
Then, you'll be able to drag one or several videos from your list of previously uploaded videos, right here, to the timeline.
The video editor will be displayed automatically. Here you'll be able to do all sorts of things like quick fixes, filters, add text and edit the audio, as well.
Under the Quick Fixes tab, you are able to edit the brightness and contrast, change the speed of the video, rotate the video, pan & zoom or stabilize the video.
Under the Filters, you'll be able to change the look of the video. This is a really awesome feature that can impress your viewers, depending on what kind of video you are trying to create here.
You can also enable the text feature to insert text in your video. You'll be able to pick a font of your choice, as well as add some of the most basic text effects, such as bold and italic.
Of course you have the option of changing the size, color and alignment of the text. You can also decide the position of the text, as well as edit the background area of the text with the banner options.
You'll be able to search for creative common videos and add them to your video project. Under this option you can add pictures to your project. You just need to click on the "add photos to project" button, and then you'll be able to add them from your photos, from your albums or upload them from your computer.
Here you can do something really awesome to YouTube videos, and that is add audio to it. This is useful if your video doesn't have background music already. The audio editor has Volume, Pan, Bass and Treble sound editing options.
You can then close the audio editor and add some really awesome transition effects to the timeline. That function is useful for multiple videos or when photos are inserted in the timeline. Here, you can also add a title to the timeline.
With this little tool right here, you can expand the video for easy viewing and for working on the video. This is really useful to synchronize all videos and photos perfectly.
And there you have the video with the effects already inserted on it. Once you are done playing around with the Video Editor, click on "Create Video" and you just need to wait for it to be live.    
YouTube SEO
Step 1: Researching
When researching videos, you should go to the Google Keyword tool and look for words that have a minimum of 500 searches per month. You can look for variations of target keywords, so that you can get traffic.  It is advisable to always go for a video that has a decent search volume in Google.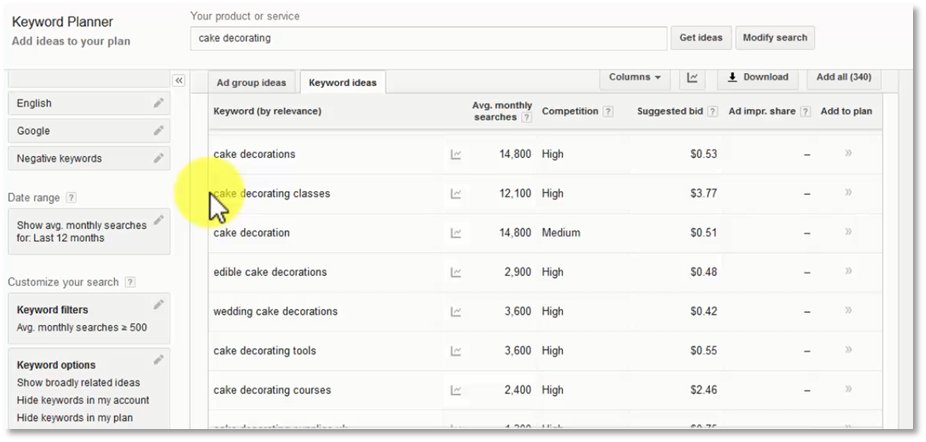 When you pick out your keywords, do a google search to see if there are any videos ranked on the first page. Then, check the second page, and finally the third page. If there are no videos ranking on the first, second or third pages, just forget about that keyword.
If you are new to video marketing, do not go for extremely competitive keywords. You can build your confidence first by targeting less competitive keywords.
Then, you can go for tougher keywords, after you build up confidence. If the video is on the first page, look at the number of views. If it has more than 50,000 views and more than 100 backlinks, then forget about that keyword, as well.
Another important thing that you should consider is to FOCUS. Some individuals may put up many videos on their first page, and they may never get reviews. Their problem is that they do not take the time to rank their videos in the right way before publishing the other ones.
Make sure that you focus your time on ranking one video before moving on to the next one.  After knowing how to rank videos, you can rank several videos at the same time.
When you start making money through YouTube videos, you can then start investing in different software and services that make your life automated and easier.
Step 2: Uploading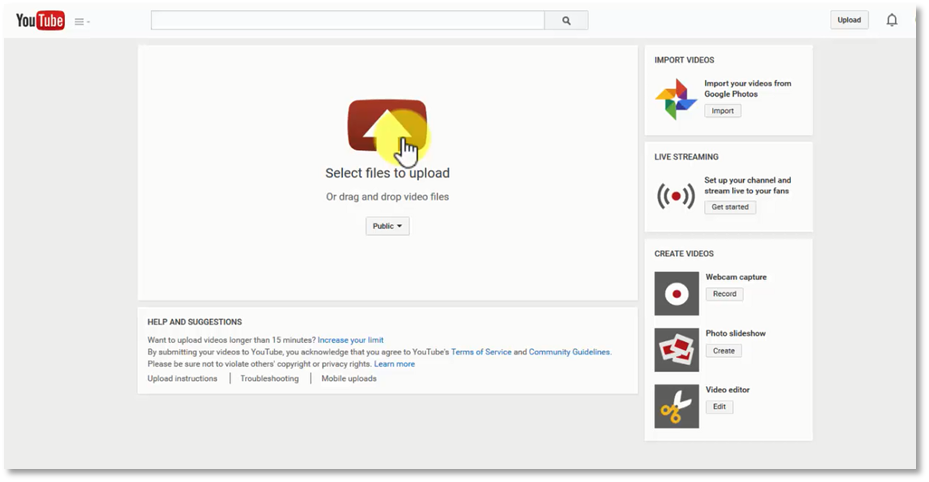 This is the most important step that involves publishing a video on to YouTube. Before uploading the video on YouTube, save it to your hard drive and ensure that you use your target keywords.
For instance, if your target keywords are "Cake Decorating Made Easy Review", the name of your video should be "Cake Decorating Made Easy Review.mp4".
Once you save your video, you can upload it. Uploading a video does not take a lot of time and is an easy process. You just click the "Upload" button that is found at the top of YouTube, when you are logged into your account.
Once you click the button, the video will start uploading. When uploading you can still work on your SEO page.
For a proper SEO, make sure that you have the keywords at least once in the title. If it reads well, you have the keywords twice in the title. It is not a must, but if you put the keywords in the title twice and it does not read right, just put it once.
In the description, you can put the keywords several times. However, it is advisable to put the keywords at the beginning of the description, in the middle and at the end.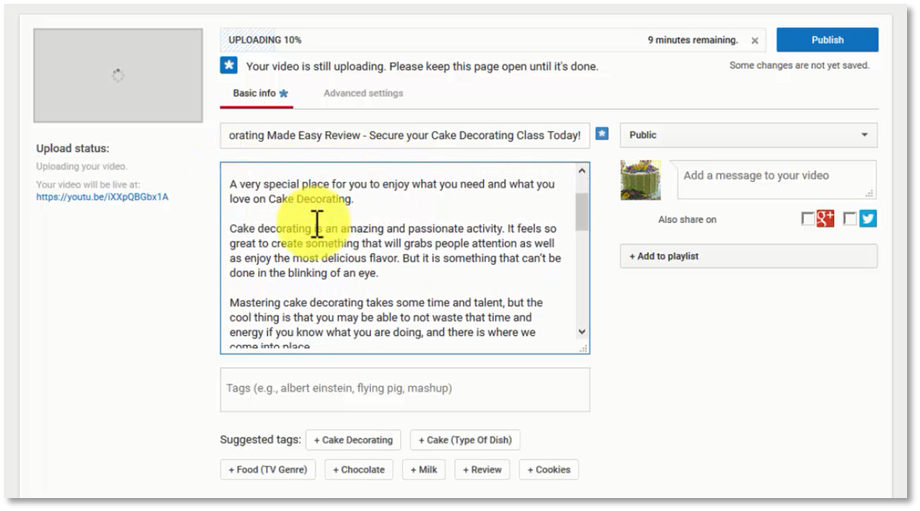 Also, ensure that you include the link to your video in the description, so that if any person scrapes the video, you can get a free backlink. Copy the description and save it to a text file for later use.
Put your keywords in tags. You just need to type your keyword phrase, place a comma after it and it will be converted into a tag.
The text file that you used for your description is needed at this stage. Once you finish uploading the video, you can go to the video manager and edit it from there. You will pick Subtitles and CC option. Also, you will add a new one. Pick the Transcript option, and upload the text file. You will then click on exit.
Step 3: Backlinking
After you finish uploading the video, there is an important task that you should do in YouTube SEO.
You can send 3,000 scrape box trackback links
Run your video through SB Bomber for 1,000 social bookmarks. You can also run it through social monkee for an additional 200 social bookmarks.
Add the video to your social ads account
Syndicate the three articles into the blog network for syndication
Embed your videos onto 5-10 web 2.0 sites
And Finally, add the URL to a blog network blogroll
If you are going after less competitive keywords, you'll need to use electronic releases such as trackbacks and bookmarking in the SEO page. Then submit your links to major sites such as:
Blogger.com
WordPress.com
Multiply.com
And LiveJournal.com
When you have all your links, you can run it through Pingfarm.com to ensure that it is pinged and indexed.
Final Remarks
If you have completed the above back linking strategies, and your video is not in the first page, you can send it to additional blog network links, and continue until it hits page 1.
You have to note that once you upload your video, real people are going to view it. So, do not think that if you release just any video it is going to make you a boat load of money. You have to take your time and put something together that is informative. Make sure that you give the viewers a quality video that you would also love to watch.
Know that people will only view a video that will be beneficial to them. When people are researching, they are looking for information that is going to teach them how to perform a task.
YouTube Ads
Yes that's right, YouTube has an amazing advertising platform looking to skyrocket your business success with just a few clicks.
For direct access to the YouTube Advertising platform you can go to www.youtube.com/ads
What are video ads on YouTube?
These are any video uploaded to YouTube that play before the selected video begins to play. The automatic play of the video ads on YouTube helps your business grow by attracting more clients to your services and products.
The video ads usually have costs, but you have control over the overall budget. The most important thing is that you only pay for the ad once it is viewed. If the viewer skips the ad after 30 seconds, you do not pay.
YouTube helps you monitor daily costs and allows you to adjust the budget in relation to what you are comfortable with. Therefore, you needn't worry about the cost, because you are able to control the expense using the daily cost control. Move the mouse to whatever amount you wish to spend in a day and set it for the ad.
Who is the target of your ads?
The good thing is that YouTube has a variety of targeting options that will help you reach the correct customers and audience. You have the option of targeting people according to gender, location, and age, at the very least.
Therefore, you will need to choose the age bracket, gender, location and interests of the group of people you are targeting.
How do you measure the results?
It is obvious that everyone would like tangible results from something in which they have invested. Therefore, YouTube provides for the measuring of results. The tool that helps measure is the built in analytics tool.
This tools also allows you to see where the ad is being viewed and by how many people. You can also make adjustments to your ad at any time, and run multiple ads to see which one is effective.
You have the chance of getting a $100 free credit when you spend $25 on YouTube. Fill in the dialogue box that appears on the screen to take part in it. This is a good platform to encourage business owners to participate in online marketing to expand their business.
Case Studies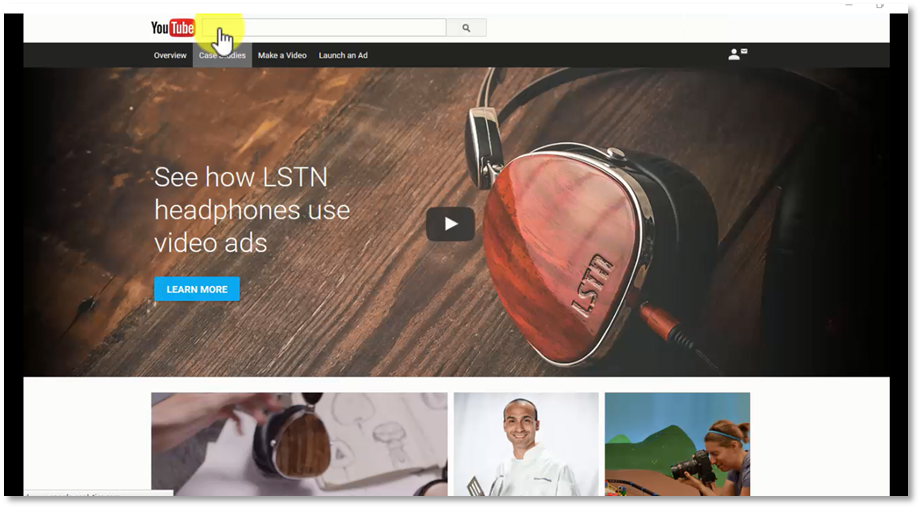 In this section you will be able to see video ads case studies. If you wish to be featured here, you can click the "want to be featured here? Tell us your story". Then you will see a form that you fill out and submit.
Make a video
Before making your own video, you can view what others have done. You'll see several example videos that will help you considerably. You can have access to a really cool app that can help you do so.
Afterwards, you can start editing your own video. You are able to choose your favorite theme. After choosing a suitable theme, you can now launch your ad on YouTube.
Launch an Ad
There are 3 basic steps for setting up your video ad. Step 1: Select your Video, Step 2: cuztomize your ads settings, and Step 3: Launch your ad.
Now, its time to create your Video Ad, so Click on get started.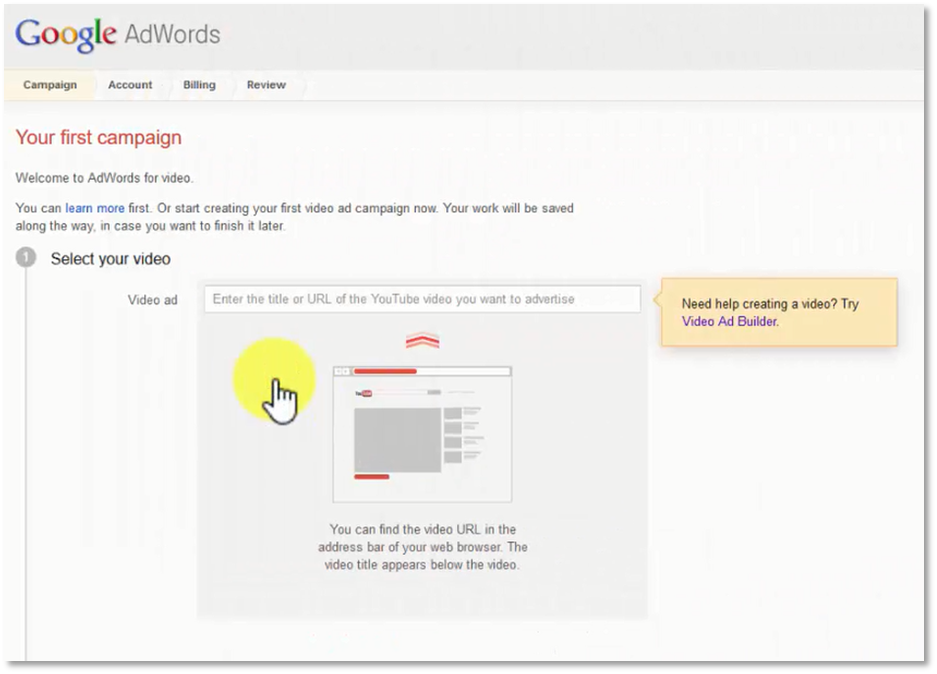 Here you will enter the title or URL of the YouTube Video you want to advertise.
You will then create your video ad by filling in the required details, as well as selecting your thumbnail and clicking on continue.
You will have to decide where you want to send customers when they click on your Video ad. You can send them to your website or to your YouTube Channel.
Then, you will be able to decide how much to spend. You have to pick your country currency, daily Budget and Maximum Cost per View.
You will be asked if you have advertised before, so click where appropriate.
Sign in if you have advertised before using your google mail. Select your time zone and currency of your current location and Click continue.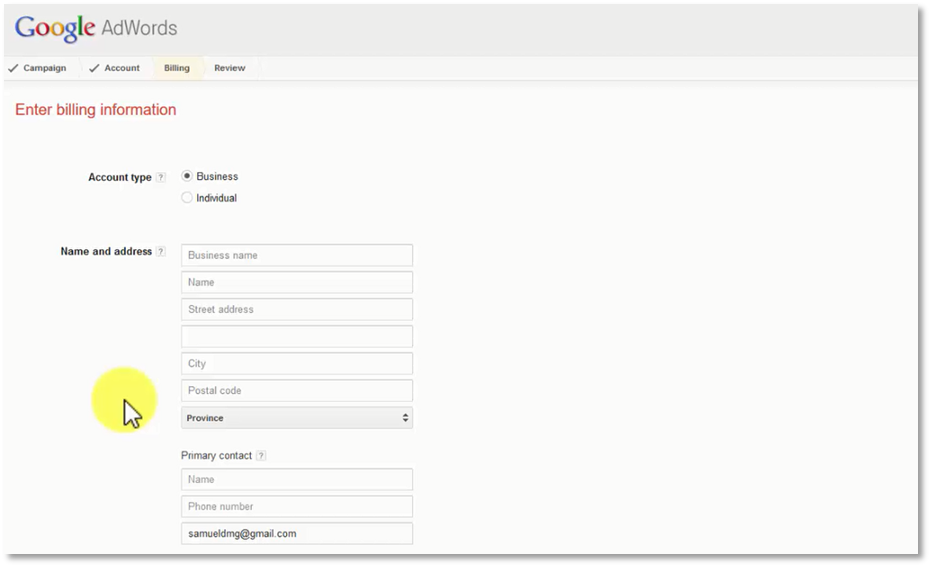 Enter your billing information appropriately.  Some of the billing information needed is the account type, name and address, how you pay, and what you pay with. Then, accept the terms and conditions, and finaly click save. 
Section IV:
The Top 10 YouTube Automation Tools.
Automation tools are the most likely to change over time. Be assured that if any of these no longer exist, something else has taken their place.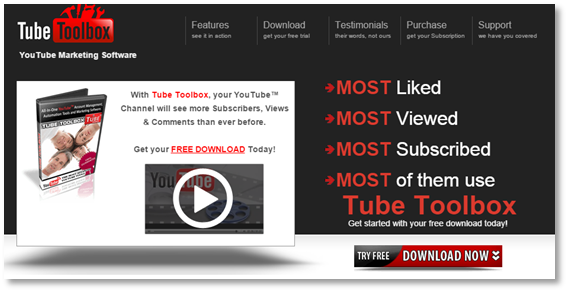 Tube Toolbox is a software that you can install on your computer.
This tool assists you by automatically scheduling periodic advertising tasks without crossing YouTube's term and conditions. You can target potential viewers who are interested in your products or services to increase the traffic towards your YouTube channel.
With this automation tool, you can contact viewers via Tube Toolbox messages, video sharing, subscribing channels and posting comments. Tube Toolbox also focuses on your account safety with the help of YouTube Data API integration send delay option to protect your YouTube account.
You can synchronize your YouTube account and manage the list of users and videos. A 'Getting started' is also provided to guide you. A free trial is available from Tube Toolbox.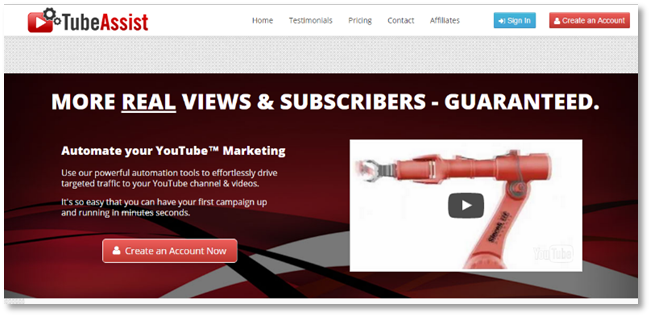 TubeAssist is an automation tool that allows you opt for the precise kind of YouTube campaign based on your business objective.
It enables you to target prospects to increase traffic towards your YouTube campaign and improve engagement with your customers. There is no middle man, so you can directly get in touch with your customers.
This automation tool is accessible 24/7 on any device, so you don't need to worry about usage on your data plan. It also follows the Terms of Service of YouTube and utilizes its own public programming API. You can opt for different TubeAssist plans based on your requirements, such as the personal plan for $19/month, professional $29/month and agent $69/month.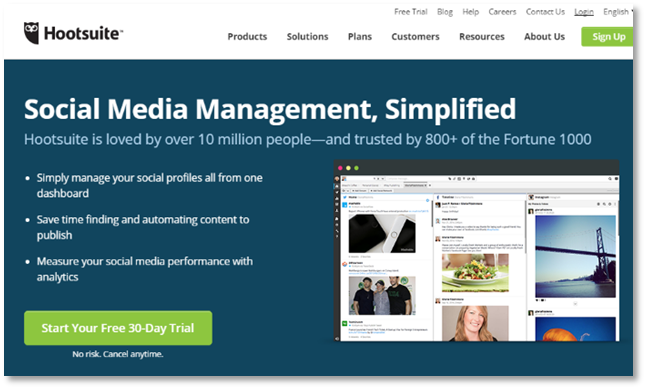 Hootsuite is a social media management tool that is generally used to manage your complete social media presence on a single dashboard. It is used by small-medium businesses, agencies and enterprises.
This automation tool generally connects with 35 social network. It enables you to schedule future updates of video content and determine success with in depth analytics.
This tool provides profile protection and permission levels in order to manage your reputation. You'll have a clear view about what viewers think when it comes to your brand and engage them. The Hootsuite app directory also assists you in expanding your reach and improving your outcome.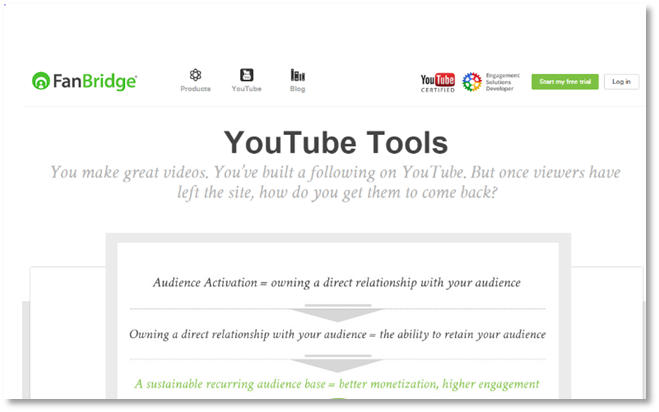 If you are really great at creative and attentive videos and have a following on YouTube, but after leaving your website, viewers are not visiting you again, FanBidge can assist you with a set of tools to enhance your audience's engagement and retention.
FanBridge allows you to increase your subscribers and lead generation through video gating. You can take advantage of YouTube bulletin scheduling to line up your future uploads, answer audience queries with video, and capture email addresses with fan pop-up.
The channels digest tool helps you to get your lost viewers back. A Hosted Fan Action Page converts your traffic into leads. You can also link this into annotations and descriptions.
Pixability believes that every successful campaign begins with a video.
It is an award winning YouTube ad buying and video marketing software that assists businesses and marketers in promoting their business on YouTube.
This automation tool provides you with a complete real- time analytics report based on channel list, keyword analysis, creator scoreboard and helps you to discover placement and keywords.
Pixability manages your YouTube channel optimization and video content. It also gives you an overview about your channel traffic and trading videos. YouTube ad campaign management is also done by this amazing tool with the help of pixel ad score and ad campaign creation.
Campaign Reporting is easier with the key metrics dashboard and comparison chart. Testing and optimization can also be accomplished to make your advertising campaign successful.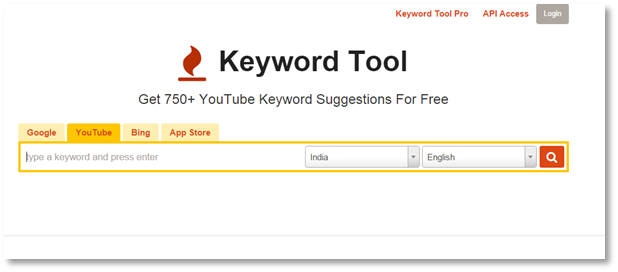 Keyword tool is generally used to discover the keywords that viewers enter into the YouTube search bar to look for your video. With it, you will be able to target your prospective customers. It provides you with an autocomplete feature that uses related long-tail keywords about an individual topic.
This tool generates more than 750+ long-tail keywords in order to improve your user experience. You can utilize these keywords into video titles and descriptions to become SEO friendly.
Keyword Tool generates a tag for your video and description. It also helps you target YouTube ads among your potential audience.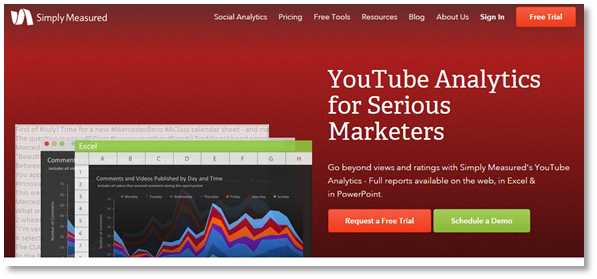 Simply Measured YouTube analytics is for those businesses and marketers who are determined to achieve their marketing goals. This automation tool enables you to get detailed performance analysis of your YouTube video channel to know the impact of your video advertising campaign and how to optimize it.
This tool can be utilized to analyze other social network performance such as Facebook, Twitter, Google+, Instagram, Vine, LinkedIn and Tumbler. You can also compare YouTube analytics with other social media platforms.
Simply Measured empowers you to benchmark your YouTube channel's accomplishments against rivals by scrutinizing subscriber, content and engagement with viewers. It allows you to correlate your YouTube advertising endeavor opposite to other social media platforms. 
ChannelMeter is a smart YouTube Analytics tool to measure the performance, channel traffic, subscribers and other detailed analytics. It offers three products – ChannelMeter Starter, ChannelMeter Influencer and ChannelMeter MCN Suite.
Use ChannelMeter Starter to administer, revamp and optimize YouTube promotional campaigns on a single platform. It provides a robust analysis, competitor tracking and complete channel management with real time reporting.
ChannelMeter Influencer allows you to determine progress, measure your video campaign, manage and engage your viewers.
ChannelMeter MCN Suite empowers you to build a great multi-channel network with the help of superior MCN analytics, seamless payment distribution, turnkey setup, and zero maintenance.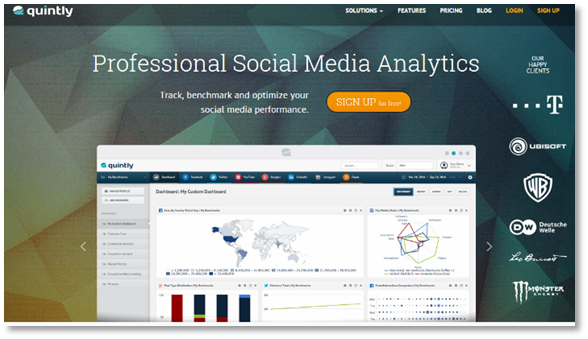 Quintly is a web based tool that assists you to measure, benchmark and improve your entire social media presence. You can see what your competitors are doing in order to enhance your performance.
This tool saves you the time of manual tracking, so that you can focus on other things. You can associate all social media data in one place whether you are using YouTube, Facebook, Twitter, LinkedIn, Google+, Instagram and blogs etc.
With Quintly, you can automate your detailed reporting. You can also customize your analytics details however you want to see them. Brand, Agencies and Media can utilize this to improve the overall social media performance of your advertising campaign.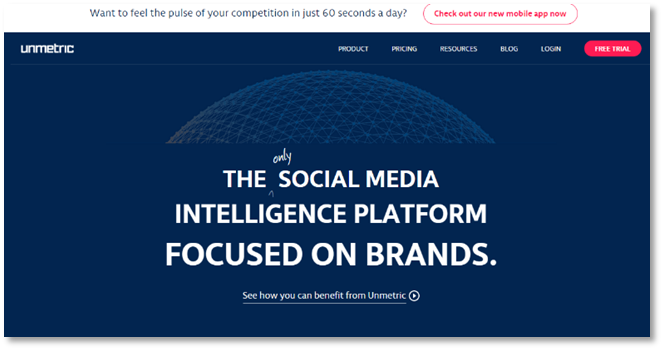 Unmetric is a social media intelligence platform that specifically focuses on brands. The main objective of the Unmetric YouTube analysis tool is to determine views, subscribers, performance, engagement, comments, shares and audience retention.
This tool assists you in comparing and analyzing your YouTube video advertising efforts. Unmetric optimizes customer service, reveals secrets of content strategy, provides detailed real time reporting, and shows campaign effectiveness across other social platforms.